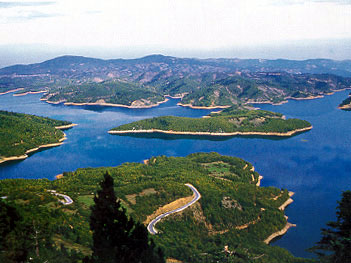 Christ and the environment
There is a great deal of talk nowadays about the increasing damage human activities cause to the environment. It's an indisputable fact that man with his modern ways of living inflicts great injuries to his natural home. Voices of protest come from everywhere. Scientists sound a constant alarm, warning that if some real and drastic measures are not taken, conditions, before long, will be dramatical and irreversible. Great segments of the earth's population will be forced to leave their homelands and a lot of animal species will disappear. Climatic changes are already visible and, alas, painfully felt.
World leaders, at least according to what they declare and affirm, make agonizing efforts with meetings, talks, conferences, in order to convince all of us to contribute to the halting of this gradual disaster, before it is too late! The Kyoto Protocol, the Bali Conference and the Food and Agriculture Organization, are but some tokens of these efforts in this direction. But unfortunately, in spite of all this, our planet Earth is constantly pining away, man being almost the sole perpetrator of all this evil.
Man's sin, making its most destructive manifestation, brings about the fulfillment of the prophecies of the Bible about the last days, as for example, Paul's words to Timothy: «THIS know also, that in the last days perilous times shall come. For men shall be lovers of their own selves, covetous, boasters, proud...(2 Tim. 3: 1...). And the Lord, in His eschatological discourses, foretold a good number of signs which we see taking place right in front of our eyes with increasing intensity and pace, saying: «And great earthquakes shall be in divers places, and famines, and pestilences: and fearful sights and great signs shall there be from heaven. ... And there shall be signs in the sun, and in the moon, and in the stars; and upon the earth distress of nations, with perplexity; the sea and the waves roaring; Men's hearts failing them for fear, and for looking after those things which are coming on the earth: for the powers of heaven shall be shaken.» (Luke 21: 11,25,26).
Christ knew very well that man away from God, couldn't help heading toward self-destruction and death. As the apostle Paul says: «The wages of sin is death» (Romans 6: 23). And already the question pertinently arises: From this destruction of the environment and its tragic consequences in our lives, who is able to save us? The answer is only one: God Who made heaven and earth «and all things therein», and Who «so loved the world, that he gave his only begotten Son, that whosoever believeth in him should not perish, but have everlasting life» (John 3: 16).
Υes, God created man out of love and placed him in an ideal physical environ, the Garden of Eden. There everything was perfect and man enjoyed, along all else, close personal fellowship with God, his Maker. But through the insidious approach and suggestion of Satan man sinned by transgressing God's express commandment and Paradise was lost.
Since then man, blinded by his egotism and enslaved to sin, has done nothing but violate God's ethical and physical laws to his own detriment. Thus, by man's disobedience to his Creator, «the creature was made subject to vanity, not willingly, but by reason of him who hath subjected the same. ... For we know that the whole creation groaneth and travaileth in pain together until now» as Paul the apostle puts it (Romans 8: 20,22). Christ, however, came to seek and save the lost man. And He did so by shedding His blood on the Cross. His resurrection guarantees the resurrection of man and the creation, too. God has promised to make all things new and the apostle Peter writes: «the heavens being on fire shall be dissolved, and the elements shall melt with fervent heat...Nevertheless we, according to his promise, look for new heavens and a new earth, wherein dwelleth righteousness» (2 Peter 3: 12b, 13).
Christ Who is «before all things, and by him all things consist» (Colossians 1: 17), has prepared for us believers in Him a new, perfect, environment, free of all kinds of corruption, in which we will live with Him eternally. «And he that sat upon the throne said, Behold I make all things new. ...These sayings are faithful and true;» (Rev. 21: 6, 22: 6).
The Lord Jesus Christ loves you and wants to save you. He wants to give you eternal life in His divine presence. Will you accept Him now as your personal Savior? Would to God you will!
Written in Greek by John Ioannou, translated into English by Markos Boussios.