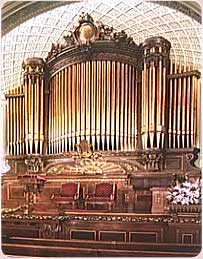 The Christian and music
Man, after the Fall and his consequent expulsion from Paradise, began to experience feelings of guilt, fear, remorse and loneliness. His life became more dramatic after Cain killed his brother Abel, which was the first murder in the history of mankind. We read in Genesis 4:11-14 that God said to Cain: «And now art thou cursed from the earth, which opened her mouth to receive thy brother's blood from thy hand;...a fugitive and a vagabond shalt thou be in the earth.». That curse followed all Cain's descendants, who tried to alleviate it by inventing musical instruments. We read in Genesis 4: 21: «...And his (Jabal's) brother's name was Jubal: he was the father of all such as handle the harp and organ». And Jubal was one of Cain's descendants. The instruments and their music had as their main purpose the mitigation of the suffering that sin had brought upon them· the appeasement of the conscience that constantly bothered them because of Adam's transgression. However, under the curse and the guilt of sin that they lived, that invention proved an additional factor in moving them away from God, and, with the strong allegiance of wine, deceived man's heart and instigated his lusts. Music inflamed the flesh and made it dance to its rhythms.
Man's mind became unable to think right and his conscience was gradually hypnotized and deadened. Satan had already won the war, turning man into a slave obedient to his dictates.
Music, however, was also used by the godly line of Seth who was born to Adam and Eve in Abel's stead. His descendants praised their Maker through it. Godly men and women honored God and had their hearts filled with joy and love by playing music and singing hymns to Him. And here we find the defining difference. On the one hand we have that kind of music that appeals to man's instincts, arousing them to violence and immorality, and on the other the music that soothes the soul and fills the heart with noble feelings, which in turn, lead to God-pleasing deeds and virtuous living. In the first category one might place the so-called ROCK, HEAVY METAL-DEATH, DISCO etc., etc., whereas in the second, classical and ecclesiastical music, psalms and hymns and spiritual songs (Eph. 5: 19, Ps. 150). That is the kind of music true Christians play and listen to.
Unfortunately, though, the world listens to the other kind. Worldly people continue in unbelief and indifference concerning their soul and its eternal destiny. However, God has provided a great salvation for every sinner through Jesus Christ's sacrifice on Calvary. It is up to you now, dear friend, to decide whether you will receive Christ by faith as your Savior and live with Him eternally in ineffable bliss or you will continue in sin and disobedience and perish eternally in Hell. If you trust Christ as your Savior now you'll become a child of God. Then you'll be singing the song of redemption: «Redeemed, redeemed, Redeemed by the blood of the Lamb; Redeemed how I love to proclaim it! His child and for ever I am». Amen.
Bro. John Ioannou, rendered in English by Markos Boussios.